Nichiha Architectural Wall Panel Case Studies
The Point Casino Hotel, Kingston, WA
Products: Nichiha VintageWood and Designer Illumination Series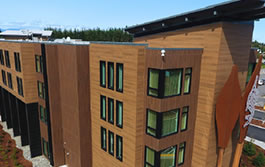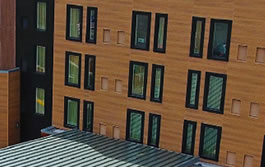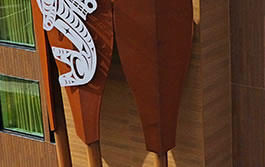 When designing their new hotel property, the owners wanted an attractive, durable siding that would hold up in the rainy, damp Pacific Northwest climate and match the landscape. After looking at many options, including real wood, they were thrilled with their choice of Nichiha Wood Series Vintage Wood fiber cement panels. They achieve the perfect look using a combination of cedar colored panels and tobacco colored panels. The owners and architect love the finished product, the price, delivery, and the installation process. They were so happy with their Nichia panels they included some when making changes to their casino entrance.
Hub 9 at Orenco Station, Hillsboro, OR
Products: Nichiha Modern ArchitecturalBlock Series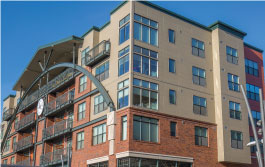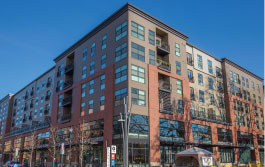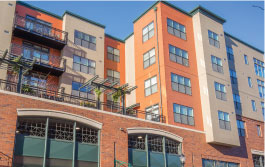 The Hub 9 apartments are at the center of a busy, new transit plaza. A favorite with young tenants, the mixed-use building features 124 apartments, retail, parking, and management offices. The developers selected Nichiha for its clean, contemporary lines, moisture management, and dimensional stability. For the building aesthetic, the Nichiha panels helped them to create a clean pallet that blended well with other cladding materials used on the project.
Aguilera Student Housing Apartments, La Crosse, WI
Products: Nichiha Designer Illumination and Modern ArchitecturalBlock Series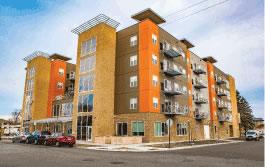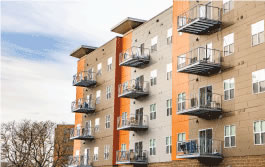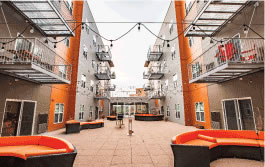 Students at University of Wisconsin, like their peers across the country, are discriminating about student housing, and prefer resort-style living. The property developer for their new student housing complex wanted cladding that would create a chic, contemporary design aesthetic and, like most student housing, fit tight budget requirements. Using Nichiha Illumination series and ArchitecturalBlock™ they created a contemporary look that is a real statement piece. Students have many options for housing in La Crosse. The Nichiha fiber cement panels which clad the Aguilera Student Housing Apartment building will stand up beautifully through decades of harsh winters and summers.
400 Meeting Street Apartments, Charleston, SC
Product: Nichiha Designer Illumination Series in three colors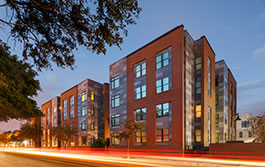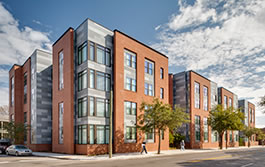 The 400 Meeting Street Apartments, student housing located in a historic district of Charleston, had to meet strict design requirements, deliver good longevity, and fit a tight budget. The design requirements were no cake-walk. The building had to fit with the historic architecture of the area and have an appealing, contemporary look. The flexibility of Nichiha fiber cement panels made them perfect for the project. Using Nichiha Illuminations series wall panels in three shades of gray, they created a contemporary checkerboard pattern. Nichiha panels are a great fit for Charleston's damp weather and have the flexibility and beauty to meet their wide range of unique design challenges on a modest budget.
CSHQA Office Building, Boise, ID
Products: Nichiha Designer Illumination Series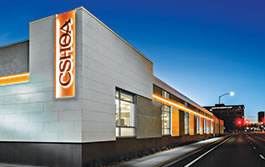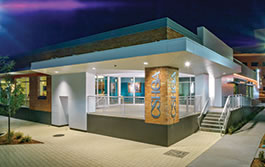 When CSHQA, an award-winning engineering firm, decided to move into a historic warehouse building in downtown Boise, they were eager to design a showcase piece that honored the past and present. One reason they selected Nichiha panels was their ability to combine beautifully with other architectural materials. Nichiha panels transformed their hum-drum warehouse into a statement piece that fits beautifully with the surrounding historical architecture.
Contact us today for more information and to discover whether Nichiha fiber cement panels are the right fit for your next project.